Sea Turtle Protection Support
Sea turtles have been nesting on the world's beaches for over 100 million years, but their population has been greatly depleted by a loss of nesting habitat, entanglement in fishing nets,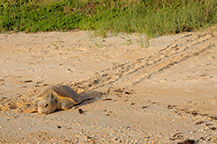 and exploitation for their meat, eggs, and shells. Without a variety of protection programs, they could face extinction.

Locally, one such program is run by the Flagler Turtle Patrol, a non-profit organization dedicated to the protection of sea turtles. Both the Hammock Dunes Owners' Association and the Hammock Dunes Club support the Patrol, in part by adopting sea turtle nests, which helps fund this all-volunteer organization.

Several Hammock Dunes residents volunteer with the Patrol, and, during the nesting season (which runs approximately from May 1 to October 31), they monitor our beaches on a daily basis looking for evidence of turtle activity. Early in the season, they look for fresh crawls, which may indicate a new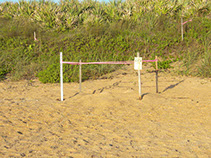 nest. If a nest is found, it is marked with stakes and a ribbon, and a Florida Fish and Wildlife Conservation Commission (FFWCC) sign is posted noting the presence of the nest and stating that it should not be disturbed. Also, a nesting report is completed and the crawl is plotted on an aerial photo.

Later in the season, Patrol volunteers look for hatchlings emerging from a nest, and, if necessary, lend a helping hand as they make their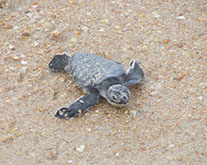 way to the sea. Once a nest is empty, volunteers then file a report with an evaluation of the success of the nest. For further information about the Patrol, including how to volunteer, see www.turtlepatrol.com.

The Hammock Dunes community also aids sea turtles by investing in the preservation of our beach dunes with projects such as the erection of sand fences along sections of our two and one-half miles of dunes, and an annual fertilization program of all dune vegetation. Both of these efforts help maintain healthy and strong dunes that protect not only the sea turtles' nesting habitat, but the nesting and/or living habitats of other wildlife as well.