Fitness Trail Efforts
Hammock Dunes and the surrounding area present many options for keeping fit while enjoying ocean, Intracoastal, and natural Florida vistas. These options include a variety of trails that are suitable for everyone from the dedicated cyclist to the casual walker.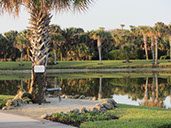 Within the Hammock Dunes gates, our "Audubon Trails to Fitness" program provides a convenient way for residents and their guests to stay
fit while observing and learning about the wildlife in our exclusive Audubon sanctuary. This program features five color-coded trails throughout Hammock Dunes that range in distance from one to 3.4 miles, with intermediate distances for each trail marked in its color on sidewalks and/or curbs. Each trail includes rest stops with benches where you can relax and enjoy the scenery. Also, there are plaques along the trails with information about the wildlife that can be seen nearby.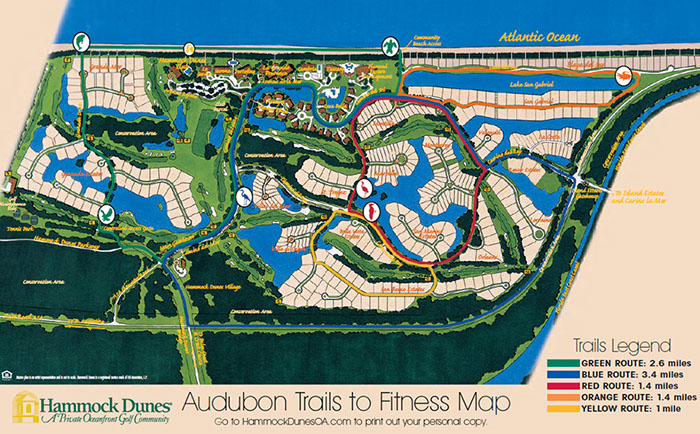 For the focused cyclist, the Hammock Dunes bicycle club, "Folks on Spokes", meets every Sunday morning for an outside-the-gates tour of the Hammock Barrier Island that sometimes also includes a trip over the bridge to the mainland. Included in the morning's activities is a stop for breakfast at one of the many restaurants along the way.

Other opportunities for walkers, hikers, and cyclists to see first-hand the beauty of our natural Florida environment include Flagler County and Palm Coast parks and trails, a sampling of which are described here:

Bulow Trails (www.pcbike.com/bike-trails/bulow-trail): Tree-covered six-mile trail takes you through a native Florida environment and ends at Bulow Plantation.

Graham Swamp (www.pcbike .com/bike-trails/graham-swamp): Over six miles of unpaved trails, including a dedicated two-mile hiking trail.

Lehigh Trail (www.pcbike.com/bike-trails/lehigh-trail): Tree-covered, paved 3.5 mile trail running through the new Palm Coast Town Center.

Linear Park/Canopy Walk/St. Joe's Walkway (www.pcbike.com/bike-trails/canopy-walk) : Tree-lined St. Joe's Walkway runs the "outer loop" around the Linear Park Trails. Main trails are paved with gravel and have dirt offshoots. Linear Park includes bocce and shuffleboard courts, a pavilion, and a small playground. The St. Joe's Walkway turns into Canopy Walk, with a paved section running along the Intracoastal.

Princess Place Preserve (www.pcbike.com/bike-trails/princess-place) : Miles of unpaved hiking, cycling, and equestrian trails, some tree-covered.