Audubon Award Focus
Both the Hammock Dunes Club's Links and Creek golf courses are certified as "Audubon Cooperative Sanctuaries" by Audubon International, reflecting the community's commitment to the environment and protection of endangered species. The Tom Fazio designed Links course includes three holes bordering the majestic Atlantic Ocean, whereas the Rees Jones designed Creek course sits on 680 acres of pristine forest and marsh and meanders along the Intracoastal Waterway with unbelievable vistas. Throughout the community and our Links and Creek courses, you will see abundant Flora and Fauna, including Spoonbills, Wood Storks, Herons, Eagles and, directly off the Atlantic shoreline, the rare endangered Right Whale and three species of sea turtles that nest on the beach. Our Audubon certified sanctuaries protect and sustain deer, river otters, alligators, wild turkeys, foxes, bobcats and other species. Many migrating birds chose to stop at Hammock Dunes to rest on their way both north and south and enjoy its protected environment.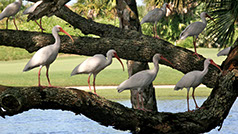 Along sections of our 2.5 of majestic Atlantic Oceanfront sand dunes, we have erected sand fences to protect those dunes with the most potential for high tidal erosion. We have implemented an annual fertilization program of all dune vegetation to not only ensure a vibrant, healthy and strong community tidal barrier, but to also provide a habitat for the many state and federal protected wildlife species who use these dunes for nesting and as their homes.
In 2000, Audubon International initially certified the Links Course as a "Certified Audubon Cooperative Sanctuary". In January of 2002, the Creek Course achieved its initial Audubon Certification. Both golf courses are one of 113 in Florida and 864 courses in the world to receive the cooperative Audubon sanctuary honor, joining a distinguished group of international courses from the United States, Africa, Australia, Central America, Europe, South America, and Southeast Asia. More significant is the fact that we are one of only 15 golf communities in the world that have two or more Audubon International Certified Cooperative Sanctuary golf courses and one of only three in Florida.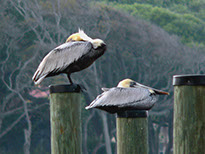 Our Links and Creek courses have continuously retained their Audubon Cooperative Sanctuary certification, and we enthusiastically look forward to the Audubon International re-visits every two years. To first obtain and then sustain certification, our community must demonstrate that we are maintaining a high degree of environmental quality in a number of areas including: Environmental Planning, Wildlife & Habitat Management, Outreach and Education, Chemical Use Reduction and Safety, Water Conservation, and Water Quality Management.
To ensure our long term commitment to Audubon International certification, the Hammock Dunes Owners' Association (HDOA) and the Hammock Dunes Club have institutionalized defined, repeatable Audubon processes. Our landscape and course maintenance crews and contractors follow strict fertilization guidelines to ensure chemical use reduction and water quality management. These crews clear damaging invasive plants and vines, while carefully protecting indigent native Florida vegetation throughout the community, courses and our fragile conservation areas. Lake banks and conservation areas have visible signage restricting resident and golfer access. Irrigation systems and timers provide just the right amount of water to sustain grass and landscape, while controlling water and fertilizer runoff into retention ponds and filtration ditches to protect our lakes, aquifer and the Intracoastal Waterway.


The Sustainable Community program includes three stages: Assessment, Planning and Implementation. This first stage, Green Communities, establishes a baseline focusing on environment, quality of life, and economic vitality. During Stage 2, we developed a goal-oriented, milestone-based vision plan, resulting in an Audubon Planning Award. Stage 3 implements the vision plan and reports progress against the plan's milestones. In the fall of 2018, the Hammock Dunes Owners' Association was designated as the FIRST, PRIVATE CERTIFIED SUSTAINABLE COMMUNITY in the state of Florida after completing the aforementioned requirements and meeting the strict criteria of the Audubon International (AI) Sustainable Community Program.

To provide Hammock Dunes residents and their visitors an opportunity to appreciate our exclusive sanctuary, we created the "Audubon Trails to Fitness" program. Our Trail map consists of five defined routes throughout Hammock Dunes, with each route defined by mileage markers and rest-stops to view our many protected species. Since each Audubon Trail has a unique mileage associated with it, residents can choose the best conditioning route that meets their specific exercise regime.

Additional information concerning the Audubon Cooperative Sanctuary Program may be found at the Audubon International homepage (www.auduboninternational.org).