Viscaya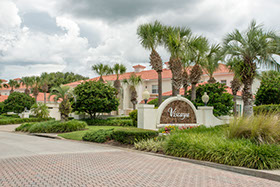 Constructed in 1997, Viscaya's Mediterranean inspired architecture offers a choice of one- or two-story, turnkey carriage homes, some with elevators and high ceilings. All units include two-car garages and spacious balconies or terraces with stunning views of native habitation and lakes, and some units also have a golf course view. Located within walking distance of the luxury Hammock Dunes club house, Links golf course, croquet courts, swimming pool, fitness center, and the Atlantic Ocean, Viscaya is a community where your neighbors truly become your friends.

Impressive living areas welcome both social gatherings and quiet, relaxing personal time. Each unit has top-of-the-line kitchen appliances and custom cabinetry, and some have granite countertops. Flexible floor plans provide a choice between a third bedroom or a den. Large walk-in closets and spacious bathrooms with elegant bathtubs, separate walk-in showers, and private comfort areas further enhance each floor plan. Some units include fireplaces for those once-in-a-blue-moon chilly nights.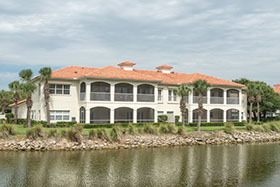 Viscaya includes both full-time and seasonal residents of all age groups, and has both couples and singles. A secure, cul-de-sac condo cluster setting promotes a friendly neighborhood sense of belonging, yet affords a private, quiet and tranquil environment with a safe, low-volume traffic flow.

High quality workmanship and reasonable unit prices make Viscaya an attractive option for those seeking an affordable yet upscale lifestyle. Exterior building maintenance and grounds keeping, included in Viscaya monthly fees, ensure a truly turnkey living style. Pristine landscaping, with a focus on native plants, surround each Viscaya building and adorn common walking areas. Abundant wildlife and tropical birds abound within the surrounding community.

An elected, governing Board of Directors provides direction to Viscaya's property management company. The Board addresses homeowners' issues or concerns, operates according to its by-laws, and carefully manages its annual budget to both cover operating expenses and ensure that replacement reserves are adequately maintained.